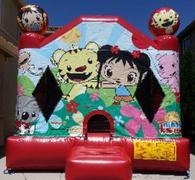 Ni Kai Lan

Actual Size: 13 x 16

Setup Area: 16 x 16

Age Group: 5- 18
Ni Kai Lan
This personalized jump house is one of our newest jumpers and lots of fun for the kids. Great for kids ages 3 on up!
This item is approximately 13' x 16' x 14' feet. We recommend a 16 x 16 square foot area up to 20x 20 area for a safe set up.
Free Delivery to the following areas, Woodland, Davis, Knights Landing, Madison, Esparto,. An additional fee may incur for deliveries outside the listed areas.